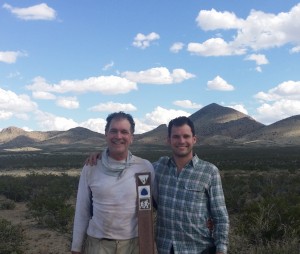 Porter and Philip emerged victorious from the first 80+ mile section of the CDT from the border of Mexico to Lordsburg, NM. "The Continental Divide Trail is a figment of someone's imagination," they said, "no trail whatsoever, just bushwhacking in and out of rocky ravines, dodging cactus, searching for the rare CDT sign–often blown over or attached to a barbed wire fence we had to scramble through." Their scariest encounter was with a border patrol agent with flak jacket, automatic weapons, and ammo clips galore, who demanded "Don't you have anything to defend yourselves with?" They gestured with their trekking poles. The danger is past now, further from the border. They hiked 24 miles one day to get to the water we'd dropped off, and had a great time. Philip became a master chef with the 4-oz frying pan, turning out cheese biscuits, cornbread, and hash browns.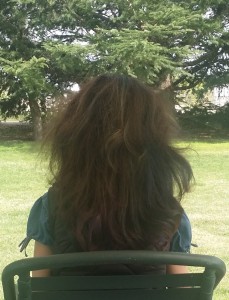 Meanwhile, back at the Quality Inn in Deming, NM, I meditated.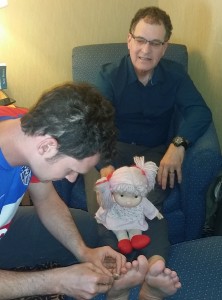 Dr. Philip Storey, Ophthalmology Resident, operated on the blisters of Dr. Porter Storey, EVP Emeritus of the American Academy of Hospice and Palliative Medicine, after Dr. Amber Storey, Surgeon Doll General of the United States, declared the latter's feet a Federal Disaster Area.
Happy Easter and Happy Passover!