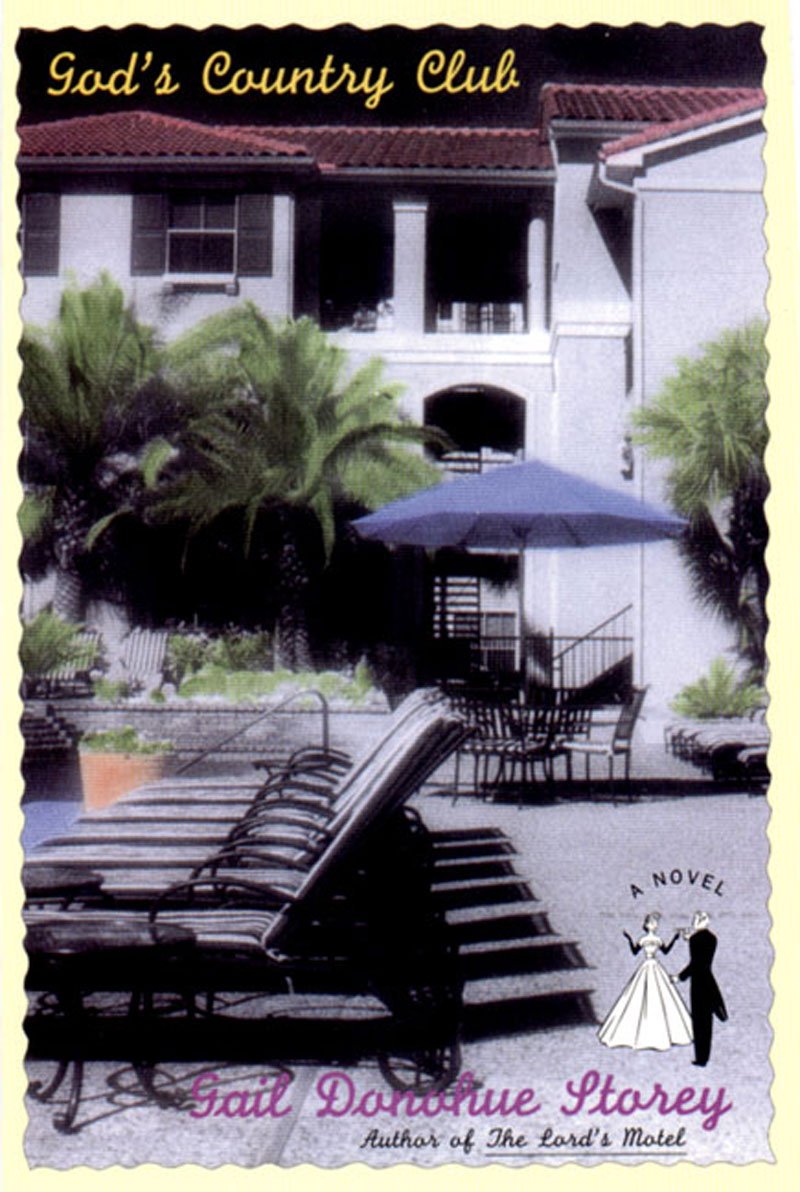 God's Country Club was a Barnes & Noble Discover Great New Writers Selection.
In the novel God's Country Club (Persea Books, NY), the sequel to The Lord's Motel, Colleen Sweeney stores most of her belongings, along with her checkered past, in a mini-warehouse.
Her heart set on Gabriel Benedict, she moves in with him, into his Houston condo complex, God's Country Club. Gabriel is a freshly divorced emergency room doctor with a young son.
Can Colleen leave her past behind and start a future with her Mr. Right?
Can Gabriel accept her as she is, still on the run from her kinky relationship with Web, responsible for her homeless father in Boston, and about to be downsized from her job as a librarian?
A Texas sexual revolution threatens as Colleen and Gabriel play out tensions between Yankees and Texans, haves and have-nots, and women and men.
Colleen navigates her way to love in this sendup of political correctness, class, debutantes, self-improvement strategies, networking, and bachelorette parties—at once hilarious and moving.
Amazon Barnes And Noble IndieBound
---
Praise for God's Country Club:
"Witty, lively, funny. We adore that self-examining first person narrator Colleen, who, with considerable trepidation, is moving into a social class to which she is not accustomed."—Joan Mellen, Baltimore Sun
"Gail Donohue Storey's talent, like that of her characters, is for 'living hopefully in the dark night of the soul.' She lightens that dark considerably by giving us a very funny (and dead on) commentary of the endless war between the sexes, the Yankees and the South, and finally, the self and its stubborn ghosts. God's Country Club is written with great elan." –Rosellen Brown
"God's Country Club is a large-hearted, funny book. It's good to have Colleen Sweeney among us again—high-gaited and lovable and unable not to hurl herself at serious issues." –Ellen Currie
"The mix of humor and pathos, combined with Sweeney's unrelenting attempts to bring harmony to her life, results in a satisfying, well-crafted story." –Booklist
"Fun is what Gail Storey does best….An engaging lighthearted lark through the scary high grass of Relationships."—Sandra Scofield, The Dallas Morning News
"Fans of Colleen Sweeney, a politically incorrect librarian with a checkered sexual past, will be happy to learn she's back….The issues are handled with good humor….Recommended." –Library Journal
"Storey…is a very funny writer whose fiction nevertheless addresses some pretty serious issues….A followup to her first novel about Colleen, The Lord's Motel, this one can easily stand alone—although once you've read it, you'll want to seek out its predecessor."—Judyth Rigler, San Antonio Express-News
---
Excerpt From God's Country Club (p.1):
Gabriel's condo complex is called God's Country Club, but the landscape service went belly-up and only the cacti survive. Moving in with him today, I make my way through the prickly pear around the clubhouse and pool. We've just stored most of my belongings in the Buffalo Mini-Warehouses. Everyone in Houston has a past life in a mini-warehouse. I come from the ranks of the sexually anxious, but Gabriel makes my soul sigh with relief.
At the door of his condo, he picks me up and carries me over the threshold. His apartment is new, post-divorce. With its arched white ceilings and skylights, it looks like a church without pews. My heart broke when I first saw it and his pared-down existence: one spatula from Wal-Mart, towels newly monogrammed with only his initials, sleeping bag, nested camping pans and bowls. It was the highest quality camping equipment, but still. He was traveling too lightly, as if living on a boat, with a Japanese economy of space. Instead of a sofa, there was a canoe in his living room."I want to share my furniture with you," I said.
Copyright © 1996 by Gail Donohue Storey. Reprinted by permission of Persea Books.