A Fool for Love Hikes the Pacific Crest Trail
**NATIONAL OUTDOOR BOOK AWARD**
"I Promise Not to Suffer: A Fool for Love Hikes the Pacific Crest Trail is a highly creative and brilliantly witty account that describes the Pacific Crest Trail experience like none other….With wonderful turns of phrase, a keen observant eye, and self-deprecating style, Storey is a consummate storyteller…."
~ National Outdoor Book Awards
**FOREWORD INDIE FAB BOOK OF THE YEAR AWARD**
**NAUTILUS SILVER AWARD**
**COLORADO BOOK AWARD**
**BARBARA SAVAGE AWARD**
**BOULDER WRITERS' WORKSHOP INK AWARDS**
Amazon Barnes And Noble IndieBound
Gail Storey was definitely not a hiker or camper.
But when her husband, Porter, leaves his job as a hospice doctor to hike the 2,663-mile Pacific Crest Trail from Mexico to Canada, she refuses to let him go alone—even though the prospect of leaving their comfortable Houston home, hiking twenty miles a day while popping antidepressants and hormones, and sleeping outside for six months terrifies her.
Carrying Porter's homemade ultralight equipment, they sizzle in the Mojave Desert, nearly drown fording a swollen river, kick steps up icy mountains in the High Sierra, and stumble through the lava fields of Oregon.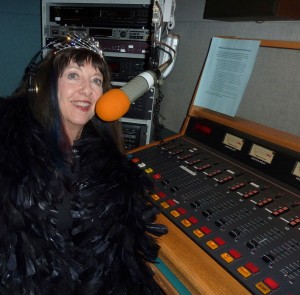 With every switchback, as the trials of the trail test and deepen their relationship, Gail and Porter each walk into the question Who am I?
Gail, confronting dangerous weight loss and her mother's prolonged illness back home, feels herself irrevocably changed by life on the trail.
Frightened by nature's power but inspired by a profound encounter with a mountain lion, she finds a wisdom that three master's degrees and a life in the city never taught her.
This journey of harrowing hilarity and reluctant revelations will be loved by active hikers (appendices include details of their unique ultralight gear and other essential how-to information), fans of female adventure stories, and those just as happy at home kicking back with a glass of champagne.
---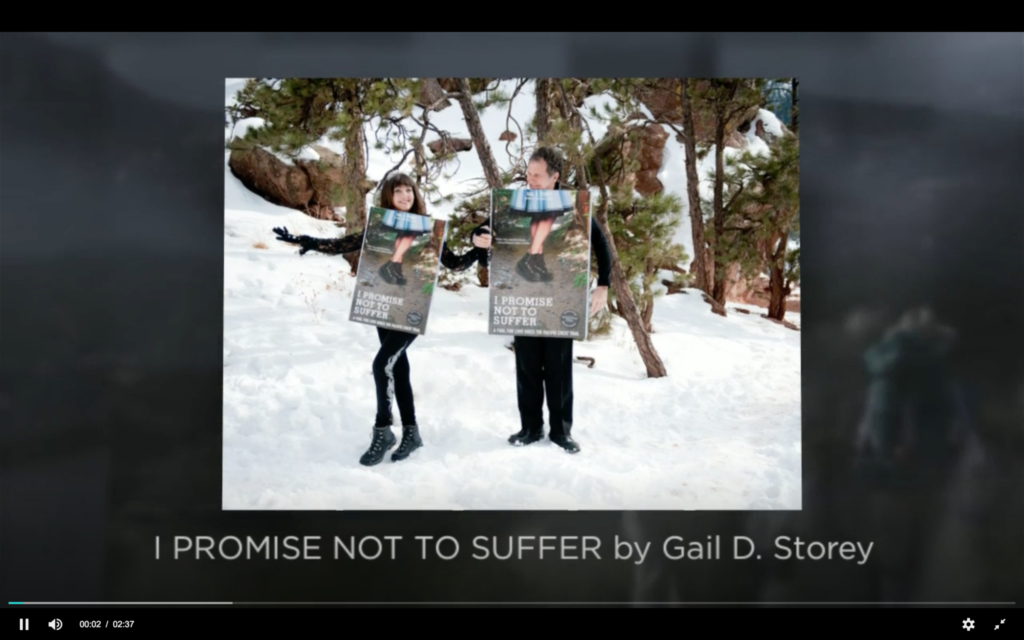 Enjoy this Podcast
with Patricia Karpas of Untangle
---
PRAISE FOR I PROMISE NOT TO SUFFER: A FOOL FOR LOVE HIKES THE PACIFIC CREST TRAIL
"With wonderful turns of phrase, a keen observant eye, and self-deprecating style, Storey is a consummate storyteller. In the end, we come to know her as someone with a ticklish sense of humor and a willing sufferer with a heart of gold."
–Judges' review, National Outdoor Book Awards
"Witty, wise, and full of heart, Gail Storey's winning memoir of her hike on the Pacific Crest Trail at the age of fifty-six is as inspiring as it is hilarious, as poignant as it is smart. It's one of those oh-please-don't let it end books. I'd carry it in my backpack anywhere."
–Cheryl Strayed, author of Wild
"I Promise Not to Suffer by Gail Storey is a true adventure memoir….(Storey) explains how the experience changed her marriage, and how it changed them as individuals, eventually giving her insight she would not have found otherwise."
–Peter Greenberg, Travel Editor, CBS News
"….an enjoyable and frank memoir that will appeal to those who have taken or want to take similar journeys, whether hiking or of the heart."
—Library Journal
"At times wrenching memoir, at times hilarious, I Promise Not to Suffer pulls no punches and has a wicked sense of fun. Storey reminds me again of what is possible with a big imagination, a dose of scrappy courage, and a lot of love."
–Peter Heller, author of  The Painter, The Dog Stars and Kook
"Of the many books that I have read about hiking the Pacific Crest Trail, none have captured the trail experience from so many different perspectives. Single hikers, couples, and those who stay behind will all enjoy Gail Storey's account of the challenges, the beauty, and the PCT community found along the way."
–Liz Bergeron, Executive Director and CEO, Pacific Crest Trail Association
"For anyone who has ever wondered if she has what it takes to push her boundaries, to attempt an endeavor the magnitude of the Pacific Crest Trail, this book will inspire."
—Women's Adventure Magazine
"Gail Storey has become a cult favorite, and has won an armful of literary awards for her memoir, I Promise Not to Suffer: A Fool for Love Hikes the Pacific Crest Trail…." 
–Dan White, "Beyond Wild: An interview with Gail Storey and Aspen Matis on facing the wilderness on the Pacific Crest Trail," in Catamaran Literary Reader, Summer 2014
"I have long believed that we have incredibly interesting readers, and once in a while one will prove me right. Gail Storey has videos, a blog, and books linking nonduality with nature."
–Gloria Lee, Nonduality Highlights
"Dogen's experience and Gail Storey's experience are the direct actualization of buddha nature. We and all beings make the world, are the world, are essentially the same. She knew the true of this, at the moment, of her saying it. It didn't change her tired body, or her confused mind. But, it did completely change her experience as a life lived. It is her life, living her life, with all beings: trees, water, rocks, mountains, moon and that of her husband Porter, the reader and everything seen and unseen."
–Shinshu, Ocean Gate Zen Center blog, http://www.oceangatezen.org/2014/03/hiking-the-pacific-crest-trail/
"For the reader, though, the journey is not so much a linear undertaking marked mile by mile on a map, as it is an emotional journey–taking us into the depths of our own lives subtly and gracefully as Gail navigates the emotional terrain of woman, wife, partner, and daughter."
–Female First (U.K.)
"Storey is refreshingly honest…at once humorous and sensitive. Woven into the accounts of harrowing trail mishaps and setbacks, as well as the celebrations of hard-won mileage ticked off and delightful and odd friends gained, it all makes for a strong sales pitch to anyone with half a foot in a boot toward taking on this daunting trek–not to mention that their suffering turns out to be quite the delightful read."
—The Denver Post 
"Ultimately, this is a love story. That's why, when Gail eventually leaves the trail and Porter continues on without her, the trail name he is given by other PCT hikers is 'Porter-and-Gail.' The story of Porter-and-Gail is one of passion and survival, a story that demonstrates how to pair yourself with another person in this world through good times and bad."
–The Daily Camera (Boulder, Colorado)
"In perfect indecorous fashion, (Gail Storey) claws up rocky mountainsides, sweats sticky-stinky across deserts, postholes through snowfield mush–all the while grappling for balance, not to drown in roiling creeks or deep-water matters of the heart. From her quest to blossom into the consummate trekking partner, she emerges, most dearly, as an unabashed sister to us all, and definitely a woman-of-the-wild."
–Kathleen Meyer, author of How to Shit in the Woods
"Some have called Gail Storey the Nora Ephron of the wilderness. With her own unique wit, Storey shares Ephron's commitment to creating and tending a long nourishing marriage. I Promise Not to Suffer is a portrait of a union that does not fray or break under pressure but is forged, toughened, and tenderized."
–Sara Davidson author of Leap!, Loose Change, and The December Project
"If you think it's challenging to hike the Pacific Crest Trail solo, a feat author Cheryl Strayed describes so well in her bestselling book Wild, try it with your spouse. Gail Storey has given us another PCT gem. This time, we experience the trail from the point of view of a husband and wife, each of whom confronts as many vexing personal issues as icy river crossings. Could there be a trickier place to confront demons than the High Sierra, where one distracted step could be your last?….The trail, they discover, is a life form in itself….The couple move from solo, parallel hikers to two soul mates deeply synched, hand reaching for hand as they pass through the hazards, the reveries and the sobering grandeur….Storey is an award-winning writer with a great sense of humor."
–Rae Padilla Francoeur, North Shore Book Notes (Gloucester, Massachusetts)
"At times humorous, but always heartwarming, I Promise Not to Suffer lends credence to the belief that immersion in nature is healing and uplifting, purifying and spiritual. Only those who have gone forth and discovered it themselves can truly attest to this, but writers such as Storey allow glimpses into the sacred places of their experienced communion with the wild and with themselves."
–Summit Daily News (Colorado)
"In a terrific summer read, Gail shares what motivated her as she recounts the literal ups and downs of her pilgrimage along the mountains and, correspondingly, through her marriage….Throughout it all, she does so with great willingness to laugh at her foibles and focuses on the magic of two people growing together through a monumental endeavor. This book leaves the reader with an abiding respect for all who attempt the hike and perhaps the spark of desire to test one's own mettle against the elements."
—The Casper Citizen (Wyoming)
"As I finished I Promise Not to Suffer, my flight into Denver began its initial descent. I was trapped in my seat and sobbing into my cocktail napkin! I exchanged glances with the woman seated next to me and told her it's the best memoir I've read in a long time—rousing, funny, and touching. She wrote down the title and author—she said it sounds like a great candidate for her book club."
–Heather Hansen, author of Disappearing Destinations
"With the sure feet of a gifted writer, Gail moves expertly between her back story (including spiritual and philosophical seques) and life on the trail….You have to read it. This is such an intimate portrait of marriage, perhaps even more so than the story of a hike. Gail shares heart, soul, spirit and body. Thus, my heart, soul, spirit and body ached and danced alongside the rocky way."
—Keddy Outlaw, Speed of Light, https://speedoflight-lonestarlibrarian.blogspot.com/search/label/nonfiction
"I Promise Not to Suffer: A Fool for Love Hikes the Pacific Crest Trail is three books in one…an experiential travel book, a memoir, and a love story. Author Gail D. Storey weaves these three threads into one immensely readable book….Think of it like Bill Bryson's A Walk in the Woods but on the other side of the country and with estrogen."
—Claire Walter,  Travel Babel,  http://travel-babel.com/2013/05/16/grueling-long-distance-hike-becomes-a-good-read/
"….[A] remarkable saga that at times seems to alienate the two, certainly taxes their endurance and patience but eventually brings them together closer than ever. Storey weaves an extremely personal diary-like tale of the detailed preparations, the excruciating experiences, the physical difficulties, the camaraderie and kindness of other PCT hikers, the frustrations, angers, dangers not to mention the exquisite "sex under the tarp" these two experienced together. It is a riveting story and an agonizing journey for both. The outcome proves sweet and life-affirming.
—Lynn Rosen, High on Adventure   
"…a superb read worthy of all the accolades and awards it has received to date….what I appreciated the most about Storey's memoir is just how deeply she allows us into her world and into both her outward and inward journeys….Storey has an enviable combination of gifts: an obvious writing talent, natural likability, humour, grace, and wit. I highly recommend I Promise Not to Suffer." 
–Meghan Ward, The Campsite,  https://thecampsiteblog.com/2013/12/19/i-promise-not-to-suffer/
"…For a hiker considering a thru-hike of their own, [I Promise Not to Suffer] is enlightening. Storey doesn't pull any punches. She tells it like it is about the Pacific Crest Trail….A great feature of the book are the Appendices that include how they built their ultralight gear, the food they packed and shipped to themselves to remain nourished, and lists for emergency preparation that would be useful not only for the hikers but for their friends and family back home."
–Jeff Clark, Meanderthals; A Hiking Blog, https://internetbrothers.org/2014/09/04/i-promise-not-to-suffer-by-gail-storey/
"…Beyond being an extreme journey of physical challenge, Storey recounts how it transformed into a path of great spiritual change as well. She laces in her history of an often sordid childhood, troubled young years, and the very imperfect parent relationships that haunt them in past memories and in the present as they check in along the way….Philosophical, full of suspense and humor, I fond this to be a book that I could not put down until the end."
—Book Talk, Orange County Public Libraries https://ocreadersadvisory.blogspot.com/
"I just finished your book. Thanks for sharing your love affair with Porter and the PCT. The chapters covering the High Sierras captured the grandeur and difficulty. The Tyndall Creek episode resonated as metaphor for depression and remission with help. Completely moved by the account of your Mum's passing. With this book you have done good as a daughter, wife, and fellow PCT thru hiker. Peace. Pineneedle."
–David "Pineneedle" Rainey
"Funny, touching, profound, insightful, and a revealing peek into what's going on inside that head of thick hair."
–Spencer Turner, leader of Boulder nondual community and celebrity hairstylist
"…She was a novice hiker, while he was an experienced outdoorsman. Removed from their usual routines and living outside in the wilderness for months exposed hidden intricacies in their relationship. She details the beauty and variety of scenery they experience, from lava fields to the High Sierra."
–Natalie Basmaciyan, Daily Pilot (Costa Mesa/Newport Beach, CA), https://www.dailypilot.com/entertainment/tn-dpt-et-0109-check-it-out-20150108,0,7752731.story
---
REVIEWS:
-Amazon, https://www.amazon.com/Promise-Not-Suffer-Hikes-Pacific/product-reviews/1594857458/ref=cm_cr_dp_see_all_btm?ie=UTF8&showViewpoints=1&sortBy=bySubmissionDateDescending
-Alpine Lily blog, May 29, 2015, "Camp Reads: Long Distance Edition,"  https://www.alpinelily.com/?p=1415
-Bumbles and Light blog, August 2013, "I Promise Not to Suffer," by Rebecca Sims
-Campsite blog, December 19, 2013, "Review and Giveaway: I Promise Not to Suffer, by Gail Storey," by Meghan J. Ward, https://thecampsiteblog.com/2013/12/19/i-promise-not-to-suffer/
-Casper Citizen, July 3, 2013, "Writer Helps Find Herself on Pacific Crest Trail," by Vicki Law Burger
-Change Place blog, May 16, 2013, "The Path to Growth," by Karla Reiss
-Connect2Self blog, April 28, 2013, "Not Suffering is a Good Thing," by Sue Wang
-Contemplative Hiking blog, November 30, 2014, "I Promise You Won't Suffer Reading This Wonderful Book," by Margaret Emerson, https://contemplativehiking.com/2014/11/29/i-promise-you-wont-suffer-reading-this-wonderful-book/
-Coventry Public Library, Greene Book Recommendations, July 2013, "I Promise Not to Suffer: A Fool for Love Hikes the Pacific Crest Trail"
-Cowboys & Indians blog, May 14, 2013, "I Promise Not to Suffer: A Fool for Love Hikes the Pacific Crest Trail"
-Daily Camera, April 21, 2012, "'Promise' a journey of humor, spirit and fierce love," by Jenn Fields,  https://www.dailycamera.com/books/ci_23064606/i-promise-not-suffer-by-gail-storey-book-review-pacific-crest-trail
-Daily Pilot, January 9, 2015, "Check It Out: Take a hike–but read a book first," by Natalie Basmaciyan,  https://www.dailypilot.com/entertainment/tn-dpt-et-0109-check-it-out-20150108,0,7752731.story
-Davis Enterprise, September 25, 2013, "Author will recount couple's Pacific Crest Trail adventures," by Enterprise staff
-Denver Public Library, May 17, 2013, "I Promise Not to Suffer: A Fool for Love Hikes the Pacific Crest Trail"
-Don't Need a Diagram blog September 25, 2014, "Review of I Promise Not to Suffer," by Mark Stevens,  https://markhstevens.wordpress.com/2014/09/25/q-a-with-gail-storey-i-promise-not-to-suffer/#comment-1882
-Examiner.com blog, October 7, 2014, "Gail Storey suffers her way to success with 'I Promise Not to Suffer'," by Karina Wetherbee, https://www.examiner.com/article/gail-storey-suffers-her-way-to-success-with-i-promise-not-to-suffer-2
-Family Adventures in the Canadian Rockies blog, November 8, 2014, "I Promise Not to Suffer (A Romantic Trail Adventure) – Book Review and Giveaway," by Tanya Koob, http://www.rockiesfamilyadventures.com/2014/11/i-promise-not-to-suffer-romantic-trail.html
-Feast, April 2013, "I Promise Not to Suffer: A Fool for Love Hikes the Pacific Crest Trail," by Rosemary Carstens,  https://www.feastofbooks.com/nonfiction-2/
-Female First, June 17, 2013, "I Promise Not to Suffer by Gail D. Storey," by Page Lambert,  https://www.femalefirst.co.uk/books/i-promise-not-to-suffer-296393.html
-Finneran, Judi, on Facebook, August 24, 2013, "I Promise Not to Suffer"
-Goodreads, https://www.goodreads.com/book/show/16160298-i-promise-not-to-suffer?ac=1
-Greenberg, Peter, on Peter Greenberg.com, July 19, 2013, "Beyond Beach Reads: 5 End-of-Summer Travel Memoirs,"  https://petergreenberg.com/2013/07/19/beyond-beach-reads-5-end-of-summer-travel-memoirs/
-High on Adventure blog, December 2013, "Hiking the Pacific Crest Trail Book Review," by Lynn Rosen
-In the Know Mom blog, August 30, 2013, review by Sarah Spittle
-Ladies in Navy blog, August 19, 2013, "Book Review: I Promise Not to Suffer + Giveaway"
-Library Journal, April 15, 2013, review of I Promise Not to Suffer: A Fool for Love Hikes the Pacific Crest Trail,  http://bookverdict.com/details.xqy?uri=Product2013-04-15-9087769.xml
-Mama Loves Books blog, August 30, 2013, "I Promise Not to Suffer: Book Review and Giveaway," by Kristin Wheeler
-Meanderthals; A Hiking Blog, September 4, 2014, "I Promise Not to Suffer by Gail Storey," by Jeff Clark,  https://internetbrothers.org/2014/09/04/i-promise-not-to-suffer-by-gail-storey/
-Mom of 6 blog, August 2013, review and giveaway of I Promise Not to Suffer, by Laura Franklin
-Montana Public Radio, https://mtpr.org/post/book-talk-ch-rie-newman-barbara-theroux-and-zed
-Natalme blog, August 30, 2013, "Book Review: I Promise Not to Suffer by Gail Storey," by Natalie
-Nonduality Highlights blog, Monday, December 3, 2012, about I Promise Not to Suffer by Gloria Lee,  https://groups.yahoo.com/neo/groups/NDhighlights/conversations/topics/4776
-Nation of Moms blog, August 26, 2013, "I Promise Not to Suffer Book Review (Giveaway) IPNTS Review"
-North Shore Book Notes, April 3, 2013, "I Promise Not to Suffer," by Rae Padilla Francoeur,  http://www.wickedlocal.com/x1551275564/NORTH-SHORE-BOOK-NOTES-I-Promise-Not-to-Suffer#ixzz2PR0NRY3o
-Ocean Gate Zen Center blog, March 28, 2014, "Hiking the Pacific Crest Trail," by Shinshu,  https://www.oceangatezen.org/2014/03/hiking-the-pacific-crest-trail/
-Orange County "Book Talk" blog, May 12, 2014, "Suffering on the Pacific Crest Trail," by KP
-Shooting the Shit blog, December 2013, "My Holiday Book Pick," by Kathleen Meyer
-Speed of Light blog, June 11, 2013, "I Promise Not to Suffer: A Fool for Love Hikes the Pacific Crest Trail by Gail D. Storey," by Keddy Outlaw/Lone Star Librarian, https://speedoflight-lonestarlibrarian.blogspot.com/2013/06/i-promise-not-to-suffer-by-gail-d-storey.html
-Summit Daily News, December 3, 2013, "Book review: 'I Promise Not to Suffer,' by Gail Storey, a personal journey on the Pacific Crest Trail," by Karina Wetherbee,
-Travel Babel blog, May 16, 2013, "Grueling Long-Distance Hike Becomes a Good Read," by Claire Walter, http://travel-babel.com/2013/05/16/grueling-long-distance-hike-becomes-a-good-read/
-Women's Adventure Magazine online, November 14, 2013, "A Poignant and Humorous Tale of a PCT Thru-Hike," by Kristy McCaffrey, https://www.womensadventuremagazine.com/blog/books/poignant-humorous-tale-thru-hiking-pacific-crest-trail/