"I never much cared for nature, or rather, thought it okay as long as it stayed outside."
So begins Gail Storey, in her memoir I Promise Not to Suffer: A Fool for Love Hikes the Pacific Crest Trail, winner of the National Outdoor Book Award, Foreword IndieFab Book of the Year, Colorado Book Award, Nautilus Silver Award, and Barbara Savage Award from Mountaineers Books. It was praised by Cheryl Strayed, author of Wild, as "Witty, wise and full of heart."
Gail's first novel, The Lord's Motel, was praised by the New York Times Book Review as "a tale of unwise judgments and wise humor." Her second novel, God's Country Club, was a Barnes & Noble Discover Great New Writers Selection. She has won numerous awards, and her fiction, poetry, and essays have been widely published.
---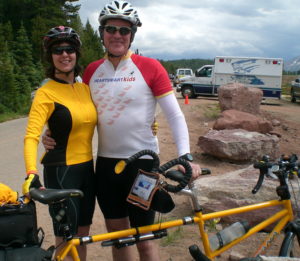 Gail is married to Porter Storey, MD FACP FAAHPM, a national leader in hospice and palliative medicine.
Together they bicycled on their tandem from Texas to Maine, hiked parts of the Appalachian Trail, then bicycled on their tandem from Texas to San Diego, the southern end of the Pacific Crest Trail.
I Promise Not to Suffer: A Fool for Love Hikes the Pacific Crest Trail is the hilariously harrowing story of Gail and Porter's hike of the 2,663-mile trail from Mexico to Canada over the highest mountains of California, Oregon, and Washington.
In their fifties, they carried Porter's homemade ultralight gear to climb and descend twenty miles a day, trudge across the searing Mojave Desert, kick steps up icy slopes in the High Sierra, and ford rapids swollen with snowmelt. Through the permeable layer between self and nature,  they walked deeply into the wilderness of love, and the question Who am I?
A former administrative director of the University of Houston Creative Writing Program, Gail now writes, hoopdances, and jumps out of cakes, not necessarily at the same time.
Her literary papers are archived in the University of Houston Libraries Special Collections.
Interviews with Gail Storey: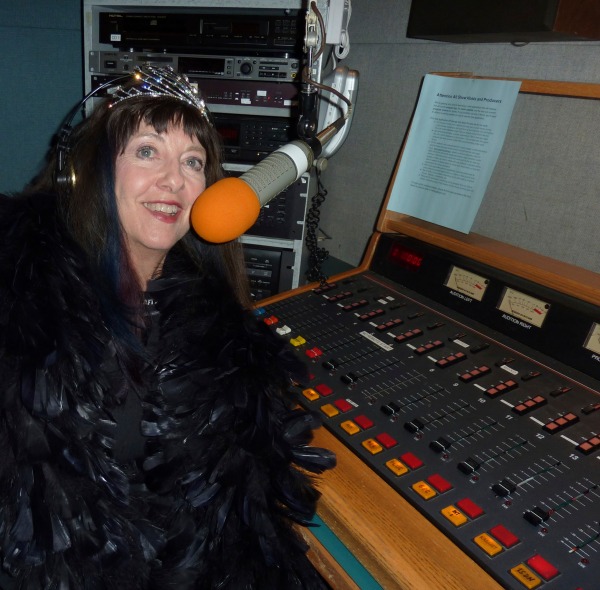 –2BoomerBabes Radio Hour, April 10, 2013, interview by Kathy Bernard and Barbara Kline
–ActiveJunky.com, May 22, 2015, "Author Interview: Gail Storey Goes Deep on the Pacific Crest Trail," by Sandra Reese, https://activejunky.com/articles/gail-storey-interview-pacific-crest-trail
–Adventure Sports Podcast, June 19, 2015, "Gail and Porter Storey: Hiking the PCT and More," by Curt Linville
–Avocado Sisterhood, July 9, 2013, "Lessons from the Pacific Crest Trail," by Marj Hahne
–Boulder Lifestyle, October 2014, "Cross Country Skiing Without Snow," by Ellen Nordberg
–Boulder Weekly, December 19, 2013, "An Adventure Continues," by James Dziezynski
–Boulder Writers' Workshop, August 5, 2008, "Member Spotlight – Gail Storey
–Talks About Writing Real Life, Humor and Book Marketing," by Lori DeBoer
–Catamaran Literary Reader, Summer 2014, "Beyond Wild; An Interview with Gail Storey and Aspen Matis on Facing the Wilderness on the Pacific Crest Trail," by Dan White
–Colorado Daily, April 22, 2013, and online Daily Camera, "Local Writes Tales from the Pacific Crest Trail," by Sarah Kuta
–Colorado Public Radio, Colorado Matters, December 4, 2013, "Brutal Hike as a 'fool for love' leads to national award," by Ryan Warner
–Cordella Magazine, Issue Two, 2014, "In the Company of Lions, a Conversation with Gail Storey," by Claudia F. Savage,  https://www.cordella.org/#/company-of-lions/
–The Costco Connection, January 2016, "Epic Storey," by Will Fifield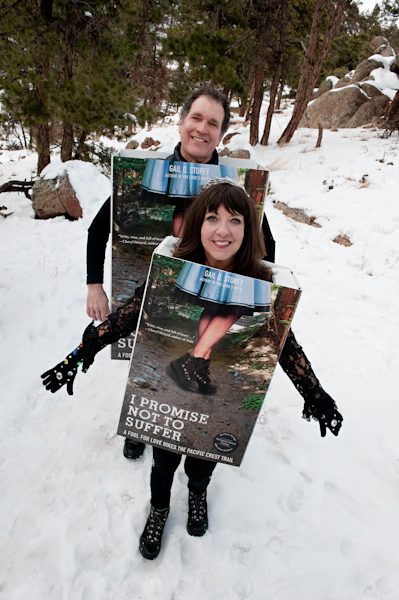 –Denver Post, May 9, 2013, online, and May 14, 2013, in Out West section, "Q&A: Couple Hikes the Pacific Crest Trail—They (and Their Marriage) Survive the Ordeal," by Kyle Wagner
–Don't Need a Diagram, September 25, 2014, "Q & A with Gail Storey—'I Promise Not to Suffer'," by Mark Stevens, https://markhstevens.wordpress.com/2014/09/25/q-a-with-gail-storey-i-promise-not-to-suffer/#comment-1882
–Experience Life, January/February 2011, "Follow Your Dream," by Laurel Kallenbach,  https://experiencelife.com/article/follow-your-dream/#ACoupleWhoWenttotheWilderness
–KBAC FM/98.1 Radio Free Santa Fe, April 3, 2013, interview by April Reese
–KGNU FM/88.5 Radio, April 17, 2013, interview by Celeste Labadie
–KPCC FM/Southern California Public Radio, April 21, 2014, "Take Two," interview by Alex Cohen,  https://www.scpr.org/programs/take-two/2014/04/21/37056/i-promise-not-to-suffer-adventures-on-the-pacific/
–Literary Orange Book Festival, April 5, 2014, panel discussion, "Travel: Journeys in Writing," with Gail Storey and Lisa Napoli, questions by Catharine Hamm, Travel Editor of Los Angeles Times, annotations for responses by Gail Storey
–Meditation Freedom, January 7, 2015, "Meditation and Insights on the Pacific Crest Trail," interview by Sicco Rood with Gail Storey, podcast
-New Asian Writing, October 7, 2014, "NAW Interview with Gail Storey"
–New Dimensions Radio, October 2, 2013, "Trekking the Pacific Crest Trail with Gail Storey and Porter Storey, M.D.," by Justine Willis Toms
–Nexus, September/October 2013, "Walk on the Wild Side; Author Gail Storey's Epiphany in the Wilderness," by Ravi Dykema, https://mydigitalpublication.com/publication/?i=172578,  https://www.bluetoad.com/publication/?i=172578&p=22,
–RailRiders, June 5, 2014, "A Fool for Love Hikes the Pacific Crest Trail," https://www.railriders.com/interview-fool-for-love-hikes-the-pacific-crest-trail-a-87.html
–She-Explores.com, January 31, 2018, podcast "Episode 54: Fifty Plus–Stories of the Outdoors from Women in Their 50s, 60s, and 70s": https://she-explores.com/podcast/fifty-plus/
–Summit Daily.com, December 3, 2013, "Author Gail Storey Presents Pacific Crest Trail Memoir at Bookstore in Frisco," by Krista Driscoll, https://www.summitdaily.com/news/9189297-113/storey-trail-gail-porter
–Telluride Daily Planet, July 24, 2014, "A Memoir and a Transformation; Gail Storey reads from book on Pacific Crest Trail on Sunday," by Laurel Henderson
–Village News, December 4, 2001, "Celebrating Life Together in a Very Unusual Way…," by Michelle Leigh Smith
–Women's Adventure Magazine, Spring 2014, "Thru-Hiking," by Chris Kassar, p. 63 of https://issuu.com/womensadventuremagazine/docs/spring2014sm/1?e=1107669/7944375 
–Zone 3, Spring 2013, "From the Sexual to the Spiritual, the Serious to the Outrageously Comic: An Interview with Gail Storey," by Amy Wright