So I'm descending 12,000-foot Mount Flora, solo after leaving Og (aka Porter) to continue north on the Continental Divide Trail.
"Gail?!" a woman calls out behind me. Who the heck could I possibly know out here? And I'm like, "Uh, ya, and you are?"
"Yogi," she says. "I met your husband up the trail and he said to watch for you."
"THE Yogi?" As in author of Yogi's Pacific Crest Trail Handbook, Yogi's Continental Divide Trail Handbook, and Yogi's Colorado Trail Handbook, the definitive guides to the trails and trail-town resupply stops that pretty much every thru- and section-hiker, not to mention trail-angel, can't do without?
She smiled modestly. This of Yogi and me is one of the pivotal photo-ops of my entire hiking life.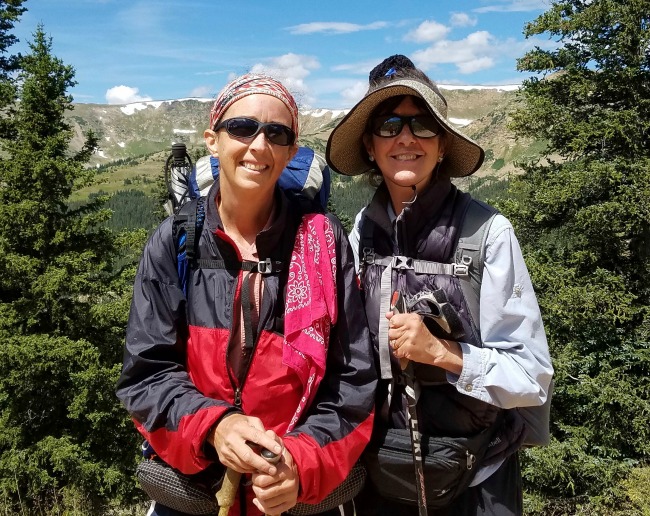 ---
Yogi is completing her second Triple Crown–thru-hikes of the Appalachian Trail, Pacific Crest Trail, and Continental Divide Trail.
"Do you need a ride from the trailhead anywhere?" I asked.
"Winter Park," she said. "But that's the opposite way from where you're going."
"I am totally taking you to Winter Park," I said.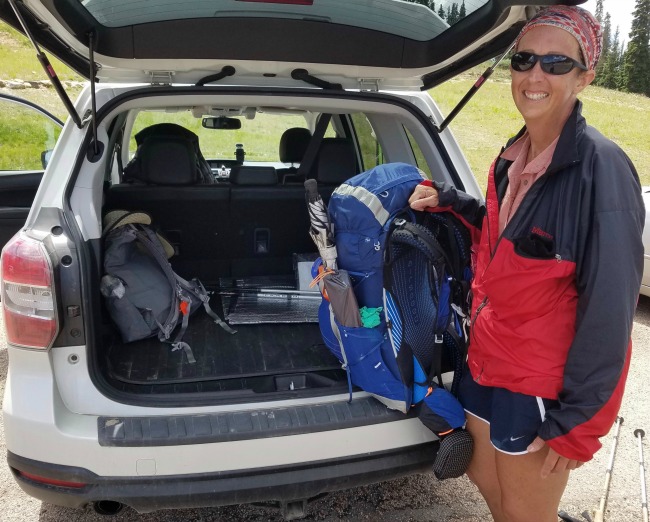 She lifted her pack into Angel2, my Trail-Angelmobile.
"What's your base weight?" I asked. As ultralighters with pack base weights of 12 and 11 pounds for Og and me, respectively, on the Pacific Crest Trail, and 8 pounds for Og on the Continental Divide Trail, I was bursting with curiosity.
"I don't know, I don't weigh my pack," she said.
Say whaaaat? On our drive to Winter Park, we talked about what she carried–a real, enclosed tent, in contrast to our 7 oz. tarp, a significant sleeping pad, all kinds of gear that I could never manage. But look at her legs! She's solid babelicious muscle.
---
Over lunch in town, we talked about navigation (she relies on map and compass, in contrast to so many, including Og and me, who now use Guthooks and similar apps), nutrition, and other things that would make you ask "and you're telling me this because?"
Dedicated to the well being of a national community of hikers, Yogi assiduously gathers, updates, and publishes the essential info about the trails and resupply towns. I feel I speak for the larger thru-hiking community when I say I simply cannot imagine how we'd prepare for and succeed on our PCT, CDT, and CT hikes without Yogi's generous sharing of her extraordinary gifts, knowledge, and hard work. Thank you, Yogi, with a deep bow of gratitude, and an outpouring of appreciate Love!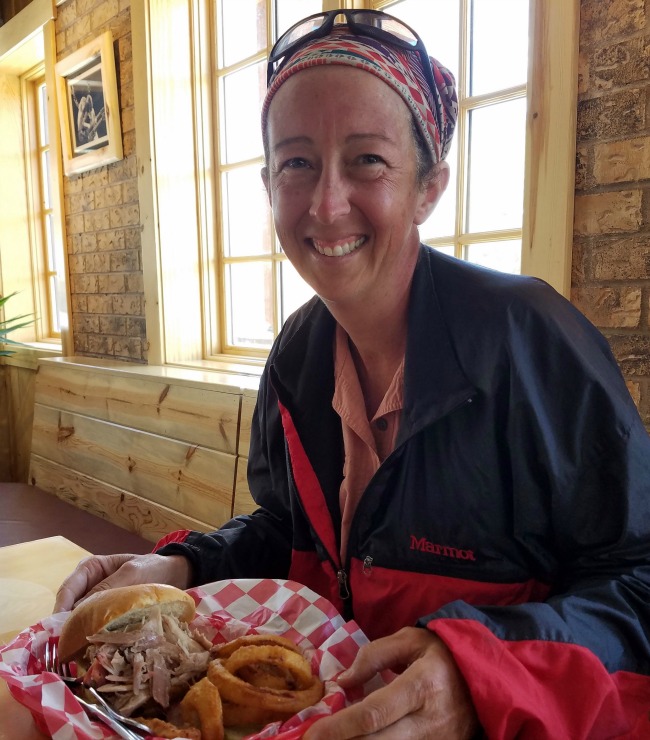 For Yogi's absolutely invaluable guidebooks and other products: https://www.yogisbooks.com/.