My mind can make a problem out of anything. So for a backpacking trip up Colorado's Buchanan Pass Trail, I turn a peaceful getaway into a problem to be solved. It's a do-over, actually, of our previous hike when we missed that trail and slogged up a boulder-strewn jeep road. It was sleeting, I was crying, my husband, Porter, had forgotten his jacket, two feet of snow dumped on us overnight, and our struggle out the next day included my sinking hip-deep into quicksand. More about that another time.
"How could we have missed this before?" I ask now at the well-marked trailhead.
He doesn't answer. He's deep in a thicket of thoughts.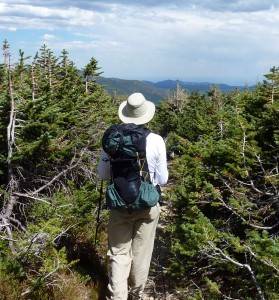 We continue up the trail. Some preoccupations fall off, others grow louder in the stillness: Did we lock the car? Should I be home working? Will we get to camp before dark? We're in our thoughts, but want really to be in this lush green forest of aspen and spruce, fragrant with pine and dust. My mind–inside; nature–outside, and the bridge between the two feels broken.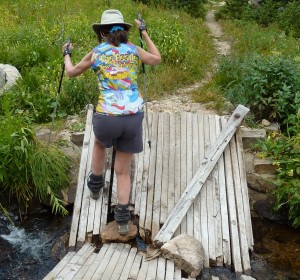 But the trail is more continuous than we think, over St. Vrain Creek, through bluebells, paintbrush, sunflowers, daisies and black-eyed Susans.
Climbing higher into the Indian Peaks Wilderness, we reach Red Deer Lake at dusk.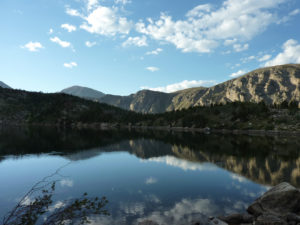 No thoughts disturb its surface. Brook and brown trout swim in its deep blue.  We sleep.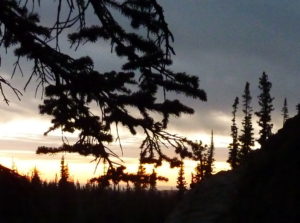 This fir-scented dawn is both dark and light.
Morning, we climb rocky trail across alpine tundra to see what grows above treeline.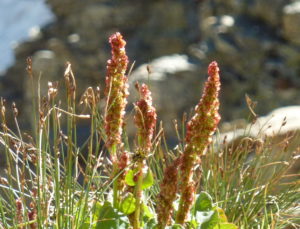 We reach the summit of Buchanan Pass, 11,837 feet.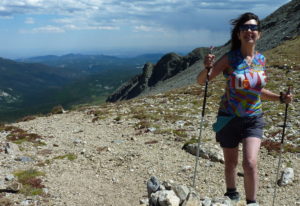 Nowhere to go, nothing to do, no one to be.