I've never been on an outdoor trip with my husband, Porter, for which he didn't invent/adapt/sew multiple pieces of gear.  Even on our thru-hike of the Pacific Crest Trail, he entertained himself each evening by modifying our packs, stove, water purifier, and clothes while I entertained myself begging him not to modify something that worked fine. He's on the mythic quest for the ultimate in ultralight backpacking.
I, on the other hand, am on the mythic quest for a comfy bedroom deep in the woods. But how to carry a bedroom when  even a tent is against his ultralight rules? So for our recent backpacking trip into the Indian Peaks Wilderness, he experimented with attaching his home-sewn 15 oz. tarp above a GoLite Shangri-La 2 Person Tent Nest, made of tight-weave mesh netting with a coated nylon floor.
After some debate over whether to pitch the GoLite Nest tent or the tarp first, we pitched the Nest, then the tarp, and would have had to re-pitch the Nest again had I not decided to cover the corner sticking out with a large trash bag.
Tip #1: Never go camping without a huge plastic bag.
Tip #2: Pitch either the mesh tent or the tarp first, it won't turn out right anyway.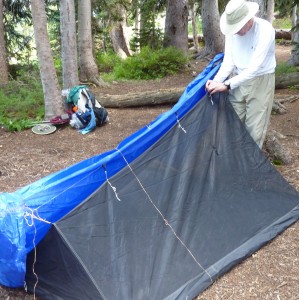 Porter sewed our tarp from a design by Ray Jardine, the guru of ultralight backpacking whose philosophy and techniques are known as the "Ray Way." Porter modified Ray's modifications by using spinnaker nylon, lighter than regular silicone nylon, and reinforced the tarp to attach clips from the Nest for more lift and room inside: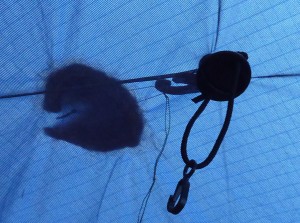 Many steps later, involving loosening, moving, and tightening guy lines and pull-outs,  pounding in stakes that won't stake due to bedrock, and tying taut-line and clove hitches, our tarp and mesh tent are assembled: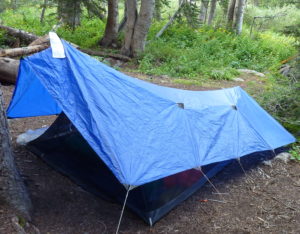 "I like camping except it takes so long to set up camp," I say to Porter.
"Setting up camp is camping," he says. "That's what camping is."
Whatever. And we still have to unpack our backpacks, roll out our sleeping bag and pads, filter our water, set up the stove and cook dinner, clean up, and hang the food bags high in a tree away from bears.
Tip #3: Don't let Happy Hour catch you unawares, even at 10,372 feet. Carry a PlatyPreserve wine preservation bottle with a very nice Malbec. Who the hell cares how much wine weighs?!
That night it rains hard, and the wind blows off Red Deer Lake. With our tarp pitched sideways to the wind, we stay warm and dry.
Tip #4: Snuggle! It's the whole point of camping!
The next morning we climb from Red Deer Lake to the top of Buchanan Pass at 11,837 feet, and return tired but happy to our campsite that evening. All of the tarps Porter made have low-impact colors, and we named this one NightSky for its deep blue, almost invisible in the trees: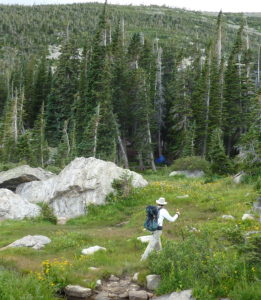 Tip #5: When you break camp, fold the guy lines into the tarp to keep them from tangling, or you'll never, ever get them untangled again: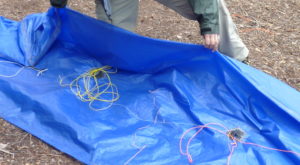 The tarp rolls up small and goes into a stuff-sack (with its lightweight tarp stakes in a separate ditty-bag):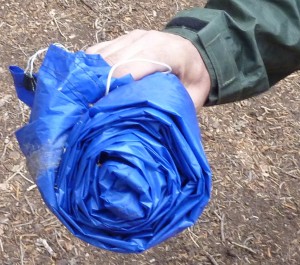 Since you don't need tent poles, it weighs barely 1 lb. (Our Pacific Crest Trail tarp was even lighter at 7 oz.) The GoLite 2 Person Nest weighs 1 lb. 8 oz., or you can sew your own even lighter mesh net-tent from instructions in The Ray-Way Tarp Book. Where bugs are few, you don't need even a mesh tent–just throw over your face a small piece of netting sewn to the top of your sleeping bag or groundcloth. (More about this in another post.)
Tip #6: Feel free to ask questions in the Comments. And for other posts on our outdoor escapades, as well as ultralight gear from sleeping bags to stove kits to making a wilderness fashion statement, sign up under "To Stay on the List."