Porter did all the cooking on our 2,663-mile hike of the Pacific Crest Trail: hot mocha and oatmeal for breakfast, and gourmet dinners like ratatouille au rehydrated tofu, boeuf jerky stroganoff, and pan-seared wild salmon over udon in an Asian fusion sauce.  (I carried the peanut butter and crackers for lunch.) Each evening, after our twenty-plus miles of hiking, he set up his wilderness kitchen of stove, ingredients, and spice kit and went to work. In this photo in the Sierras, he's unpacked our food from our bear-proof canister (lower right) and wears a head-net because of the mosquitos: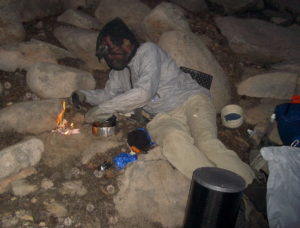 My job as sous-chef was to stand by with water in case he set his pants on fire (happened twice). At home I do all the cooking, and his job is to decant the Malbec and watch it breathe.
Nevertheless. When he wants to cook, we have to go backpacking so he can try out his latest modifications to his latest ultralight stove. Here's his 8 oz. stove kit, including a 1 qt. titanium pot, windscreen and stainless steel rods to hold the pot above the burner, his titanium ground protector (so as not to scorch the earth), ThermoJet alcohol burner on top of protector, and spoon to stir (the rods fit into the back of the spoon for storage):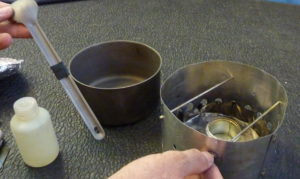 Porter eats with his stirring spoon, and I have a plastic spork–a spoon with a jagged end for fork-like purposes. Mine is red lest I lose it in the dirt. But on our recent backpacking trip, I was dismayed to find my spork denuded of its jagged tines.
"I sanded them off to fit in the stove kit," he said.
"?!"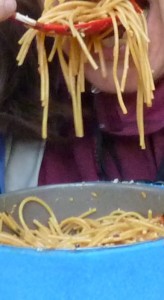 Whatever, it was delicious. Porter cooked it from a pasta recipe from Backpacker Magazine, except he made substitutions for thirteen of the fourteen ingredients. He did use pasta, though. The recipe also said to "drain the pasta," but carry a colander? Fuggedaboudit. In any case, Porter used his highly insulated pot-cozy to retain heat and cook faster at high altitudes.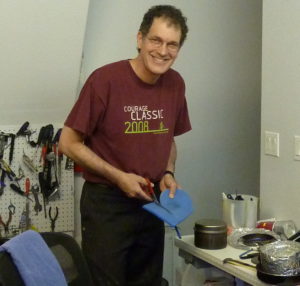 A Top Chef who makes his own cooking accoutrements? I'd vote for him, wouldn't you?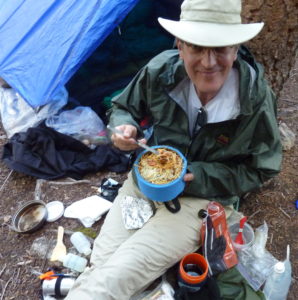 We love comments and questions, and please pass the link to this post along to anyone who'd enjoy it. If you haven't already, please do sign up for my blog at gailstorey.com under "To Stay on the List"!