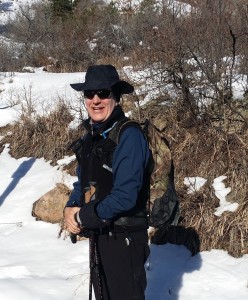 It's really true–Porter has retired from his position as Executive VP of the American Academy of Hospice and Palliative Medicine, with much fanfare at their Annual Assembly for his thirty years of leadership in hospice and palliative medicine! He also retired from his clinical practice as a palliative care doc for Kaiser Permanente, and will miss his colleagues deeply.
He's training assiduously for his 3,100-mile hike of the Continental Divide Trail from the border of Mexico to the border of Canada, over the mountains of New Mexico, Colorado, Wyoming, Idaho, and Montana by hiking Boulder's peaks several hours a day. Porter being Porter, he's making and customizing new ultralight gear, including his backpack (of camouflage fabric barely visible in this photo).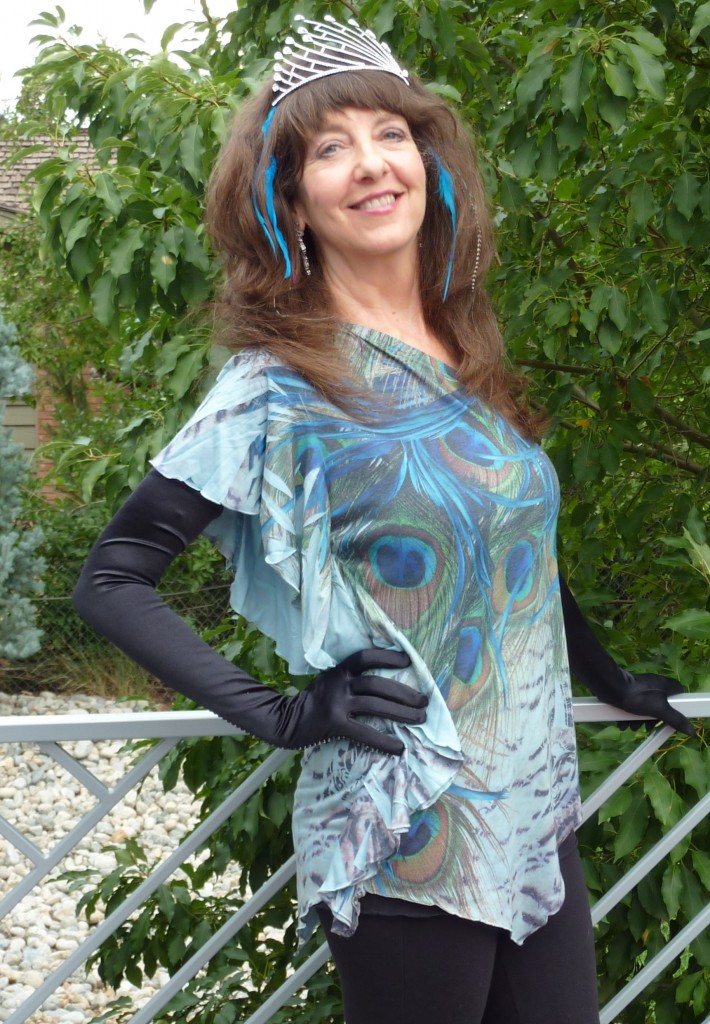 Have tiara, will travel! I'll be Porter's "trail angel" support, moving from town to town somewhat close to his CDT route. About once a week I'll drive to a trailhead, hike in to meet him, bring him into town for a day or so to resupply his food, clean up and do laundry, eat, drink, and be very merry!
While Porter hikes, I'll be doing a solo meditation retreat– sitting and walking meditation based on my 40-year practice with teachers from various contemplative traditions.
Porter and I will keep track of each other's whereabouts via our satellite trackers, which work in the mountains where cell phones are iffy.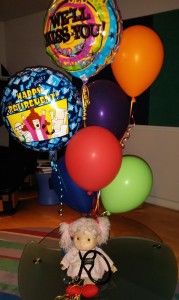 The incorrigible Amber, with whom some of you are acquainted from her blog at amberstorey.com, has misappropriated both Porter's stethoscope and his Retirement balloons. She can be counted on to insert snarky comments in this CDT blog post series about Porter's hike and my solo meditation retreat.
This blog will be our main way of staying in touch with y'all. We look forward to hearing from you, and I'll respond to your questions and comments in the Comments section under each post.  Please do feel free to subscribe to the blog at GailStorey.com (left column under "Sign up for Updates on our New Adventures") if you haven't already, and to share with anyone who might be interested.
Happy trails to all!  Gail and Porter